Description
Designed specifically to block gophers from damaging lawns and planting areas, Gopher Block wire is a heavy duty galvanized-steel wire mesh which typically lasts for 7-12+ years when buried underground. 20 gauge wire provides an ideal balance of strength and flexibility and due to the thickness resists damage from gophers chewing . The 3/4" mesh size is the ideal opening which is small enough to prevent both mature and young gophers from passing through while allowing various plant and tree root systems to flourish without "strangling" the roots. (

University of California, Statewide Integrated Pest Management Program, Publication 7433

). Our galvanized gopher wire has undergone a very specific manufacturing process which involves a double galvanizing process and electroplating which helps the wire to resist breakdown in some of the harshest underground conditions. 
Also Available: Stainless Steel Gopher Wire

For the ultimate strength and material longevity we also offer stainless steel gopher wire which provides a estimated material lifespan of 12+ years when buried underground. Learn More >

Engineered for Sustained Below-Ground Longevity
What's the main difference between Gopher Block and other less expensive chicken wire or hardware cloth? Material lifespan. Our gopher wire is engineered to specifically resist underground rot while retaining a high level of strength sufficient to repel even persistent gophers. Other generic wire mesh products can quickly rot, and lose strength when buried.
Gopher Block
At a Glance
Permeable
Strong
Blocks Mature Gophers
Blocks Young Gophers
Rot Resistant
Allows Plant Root Growth
Allows Lawn Root Growth
Designed Specifically for Gophers
HD
Galvanized Steel
Our galvanized-steel gopher wire provides an effective lifespan of 7-12+ years when buried under ground. This impressive lifespan is due to the very intentional manufacturing process. This isn't just "fancy hardware cloth".
Request Formal Quote
Do you require a formal quote for gopher wire? Fill out the form at the link below and we will provide you with a written quote within two business days.
Request Formal Quote
Questions?
Do you have product related or purchasing questions? We are happy to help, feel free to contact us.
Ground Staples
Each Roll of Gopher Block™ requires 100 ground staples for proper installation. (sold separately)
View Ground Staple Details and Pricing
Gopher Wire Roll Calculator
How many rolls of Gopher Block™ do you need for your project? Just enter your square footage below:
Research-Backed Mesh
3/4" galvanized and stainless steel wire mesh has been used for decades to successfully prevent gophers from tunneling into lawns and planting areas. Furthermore, in 2009 the University of California (UC Davis) conducted a study on gophers in California and concluded that 3/4" galvanized or stainless steel wire mesh is ideal for the prevention of gophers in a landscape. *University of California, Statewide Integrated Pest Management Program, Publication 7433, September 2009 (Revised July, 2019)
Is Smaller Better?
When it comes to mesh opening, smaller is not better. Mesh sizes smaller than 3/4" can begin to strangle tree and plant root growth. This can lead to a unhealthy landscape and unstable trees. The 3/4" opening is the ideal size as it prevents gophers but also allows your plants, trees and lawn the root growth that they need.
Where Can Gopher Block be Installed?
Gopher block wire can be installed in a wide variety of different landscape applications - pretty much anywhere you want protection against gophers!
Sod Areas
Seeded Grass Areas
Putting Greens
Artificial Grass / Turf
Garden Beds (In-Ground)
Raised Garden Beds
Paver Patios
Child Play Areas
Pathways
Sports Fields
Gravel Driveways
Golf Courses
Installation - Sod Area
The installation of Gopher Block in a lawn area can be accomplished by either a landscape contractor or the homeowner. Follow the below installation instructions for optimal gopher protection in a lawn area:
Sod Layer: If installing sod, the sod has an attached soil layer.
Soil Over Wire: 1" to 1-1/2" of soil should cover the wire prior to adding sod.
Gopher Wire: Provides protection against gopher intrusion.
Existing Soil: This is the soil below your installation area
Installation Video
View the Gopher Block™ installation video for step-by-step instructions on installing gopher wire under a lawn area.
Preparing the Area:
Remove any rocks and debris from the desired installation area. Next, level out the installation area as much as possible. (The area can slope, but for ease of installation, try to make it an even plane as much as possible)
Smoothing Out the Area:
Using a lawn roller, (can be rented from a local hardware store) smooth out the area. The end result will be a compacted surface which will be ideal for laying the gopher wire.
Roll out the Gopher Wire:
Unroll the wire and using ground staples, stake the ends of the wire together. To ensure that the wire lays flat, stretch the wire slightly.
Overlapping:
When placing the wire side-by-side be sure to overlap a minimum of 3".

Note: Do not simply butt the ends up. Over time this can create a small gap where a gopher could potentially penetrate and squeeze through the wire.
Install Ground Staples:
To ensure that the wire stays in place, use ground staples to secure the wire to the ground every 18" on the perimeter and overlapping areas. The wire can be cut using standard wire cutters or sharp garden sheers to fit the area.
Boarders:
If installing a boarder with the gopher wire, be sure to fold the wire up and then affix to the boarder. This will ensure that a hidden gap is not created on the edge where a gopher could squeeze through. It is a good idea to physically attach the wire to the edging if possible using staples. This will help the wire to stay in place regardless of future minor earth movements or swelling that may take place.
Add Soil:
Next, add soil to the installation area. Spread an equal amount of soil covering the wire under an equal depth of 1" - 1-1/2". After spreading, use a lawn roller again to even out and compact the soil on top of the wire.
Lay Sod:
Next lay the sod on top of the area. When rolling the sod out, be careful when walking on the compacted, smoothed out soil. Be careful not to significantly disturb the compacted soil, exposing the wire.
Enjoy your Lawn
With Gopher Block gopher wire installed, your lawn area will now be protected against gopher damage and intrusion in the future.
Important:
It is essential that all of the gopher wire makes complete contact with the soil. In any areas where the wire is "bubbled" or pushes away from the soil, use extra ground staples to secure it to the ground.
Note:
It is ok to walk on the wire directly when installing. It is not a good idea to drive a machine on the bare gopher wire as the turning wheels or tracts can easily rip up the wire.
How Long Will Shipping Take?
Gopher block is stocked and ships from our Utah distribution center. Orders typically ship within one business day. Shipping is free and most west coast customers experience delivery within two business days of ordering.
Transit Time
Gopher Block orders typically ship within one business day of order placement. Smaller orders of a few rolls ship via UPS / Fedex while larger orders ship by LTL freight. If your order ship via LTL freight the delivery company will contact you prior to delivery to arrange a delivery window that works with your schedule.
Transit times on the map above are shown in business days and exclude weekends and holidays.
Want an Even Longer Lasting Wire?
If you are looking for the longest lasting gopher wire possible, consider our stainless steel gopher wire. This wire is composed of 20 gauge T-304 stainless steel and has an estimated lifespan of 12 years+.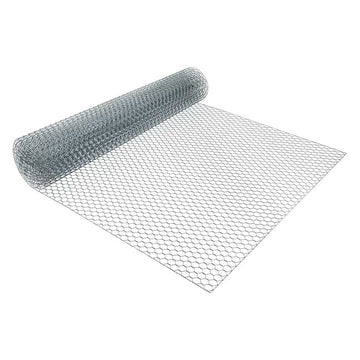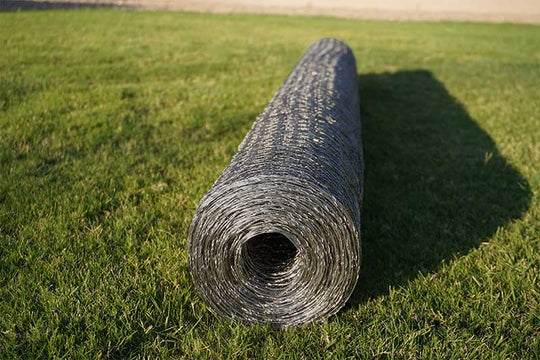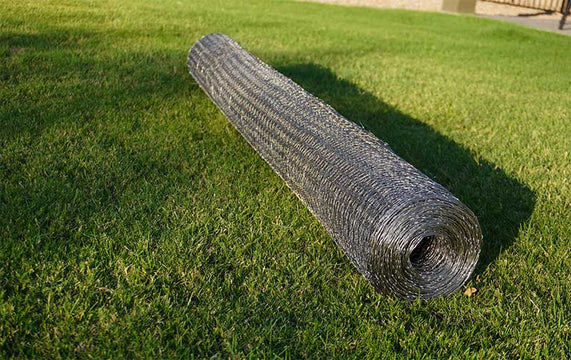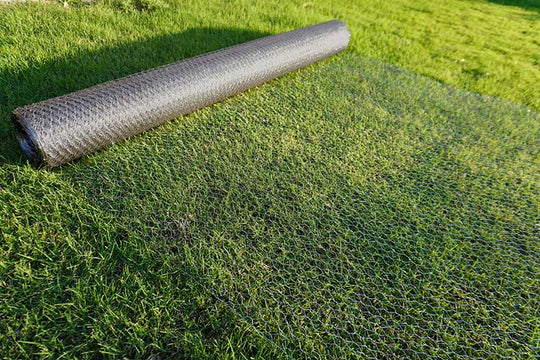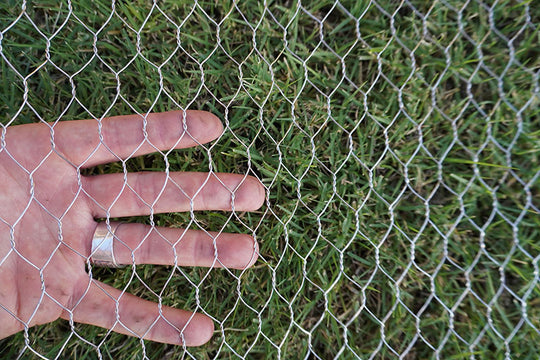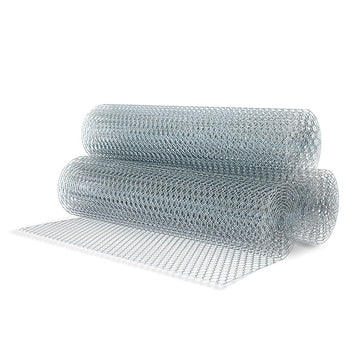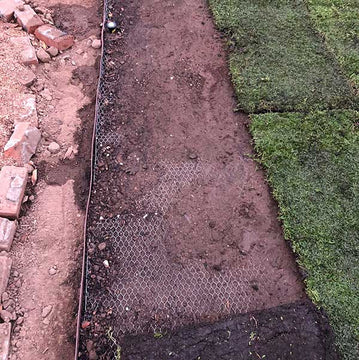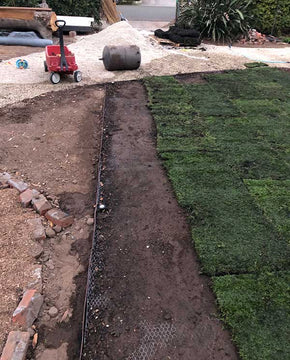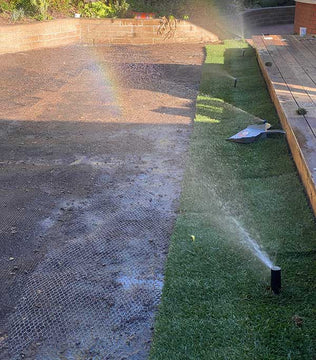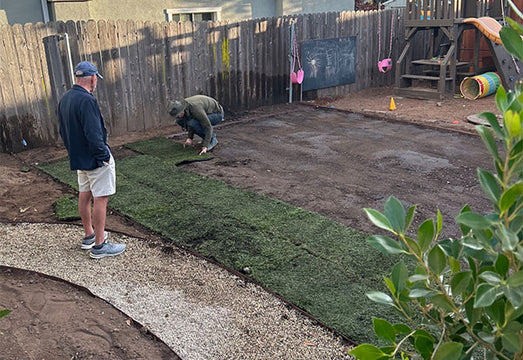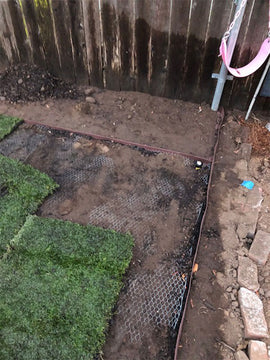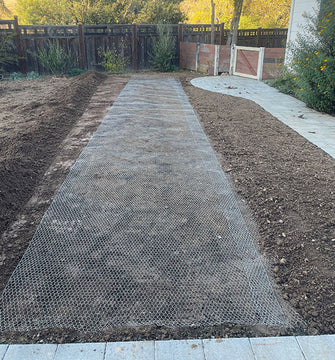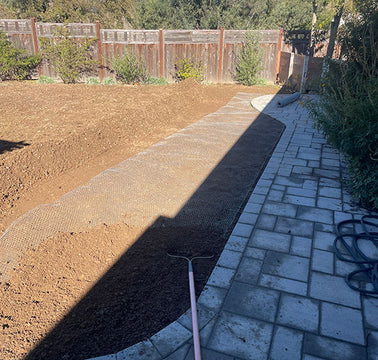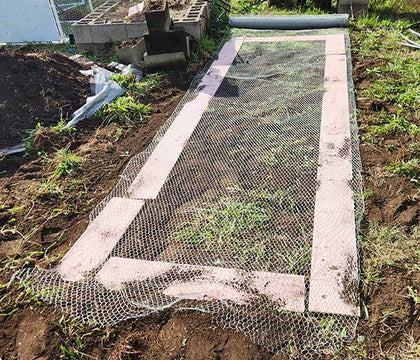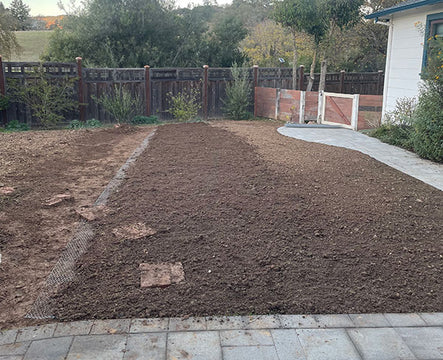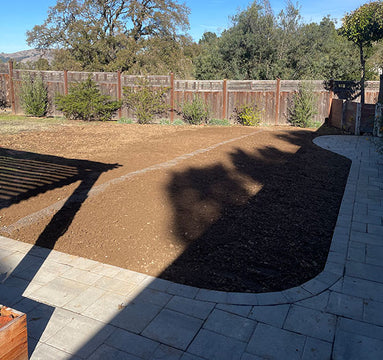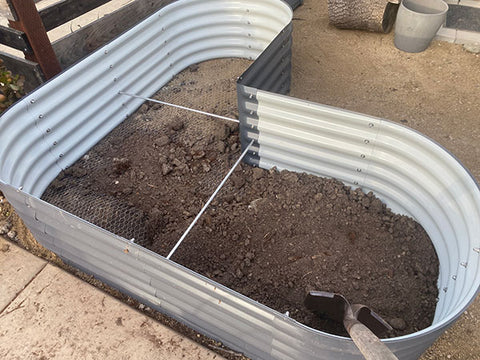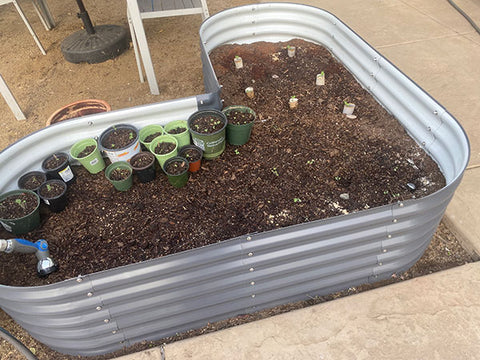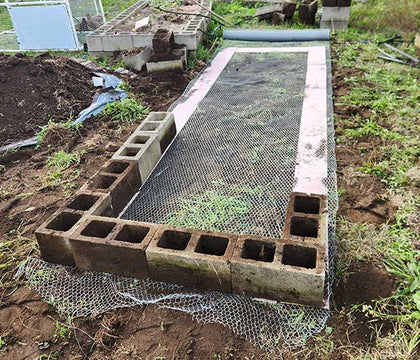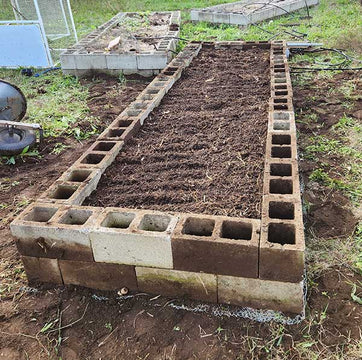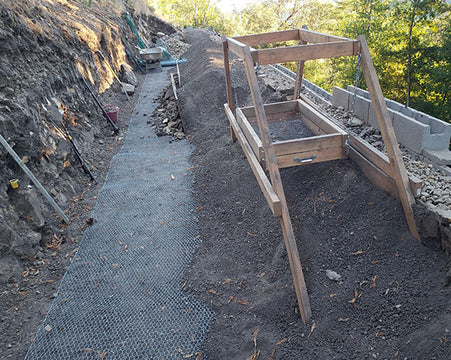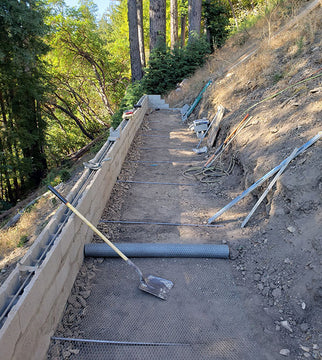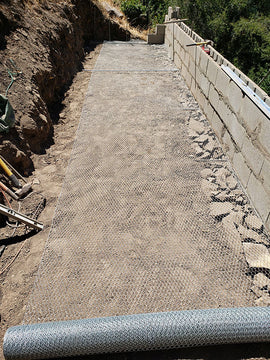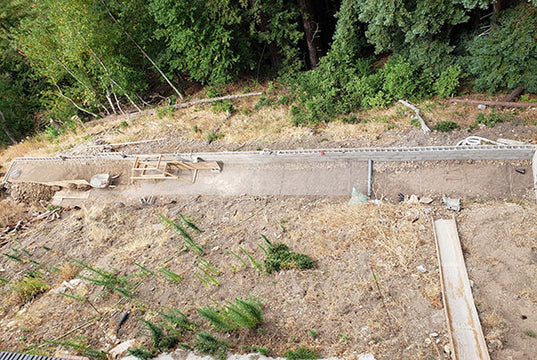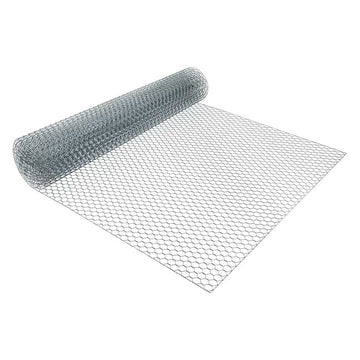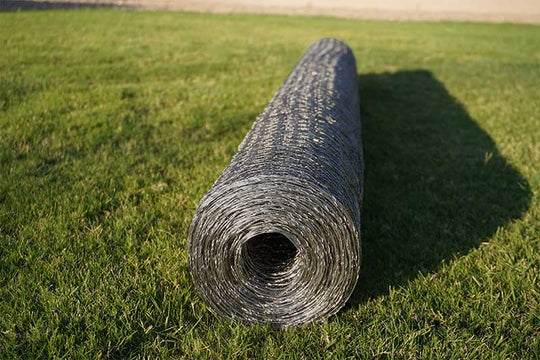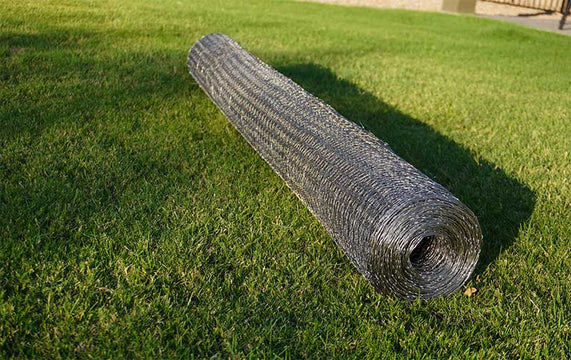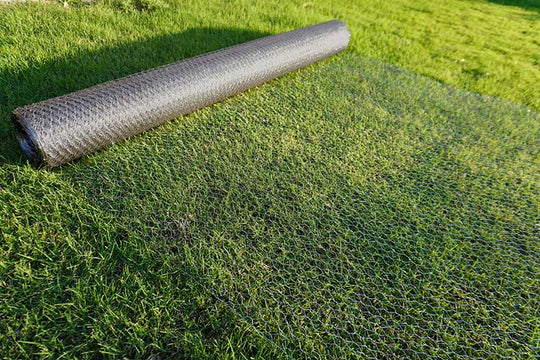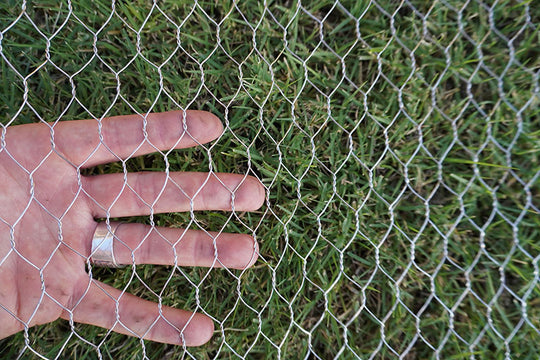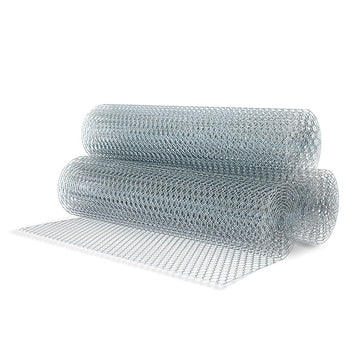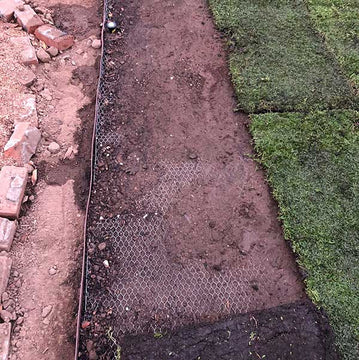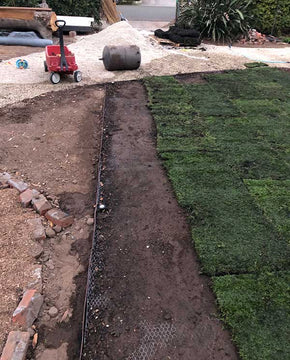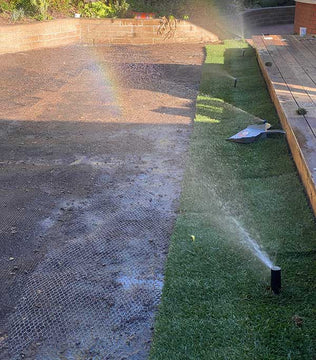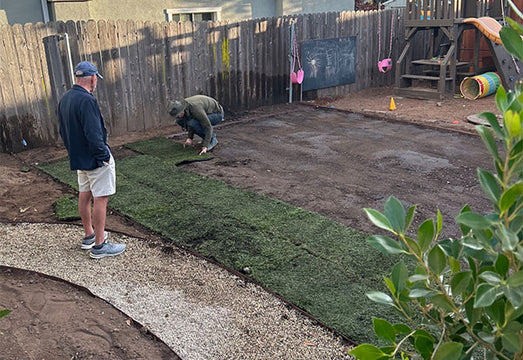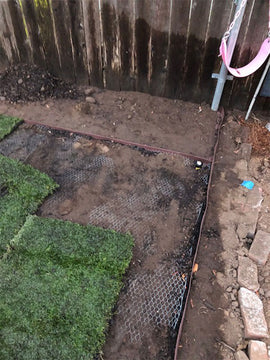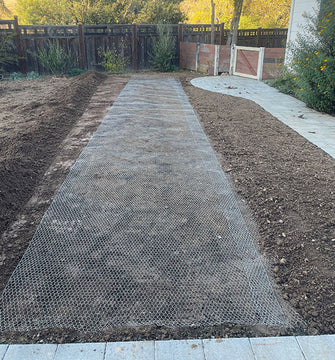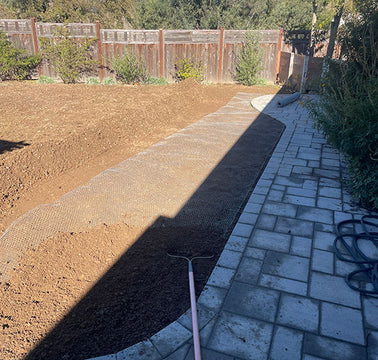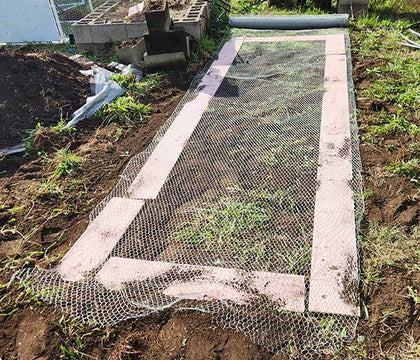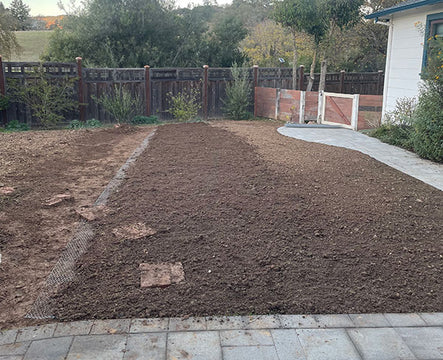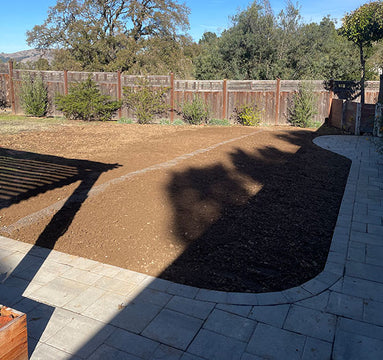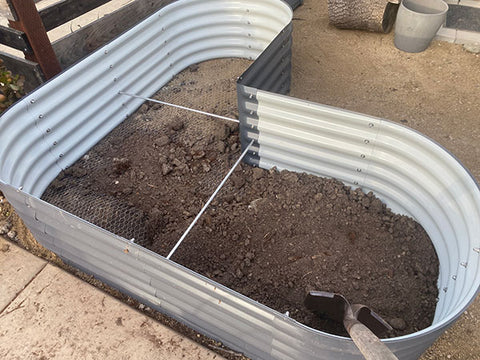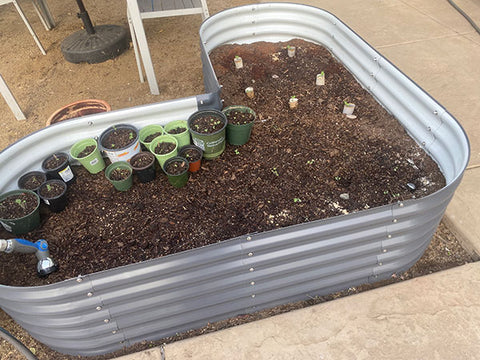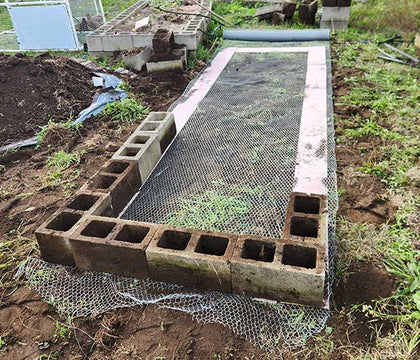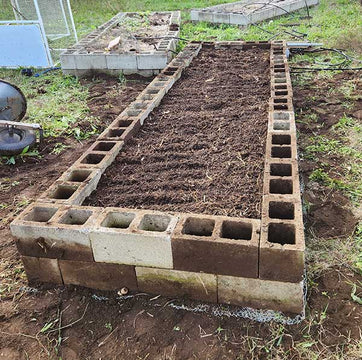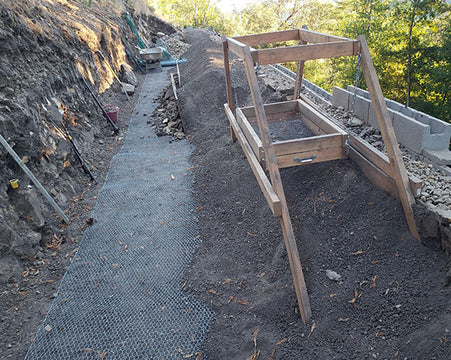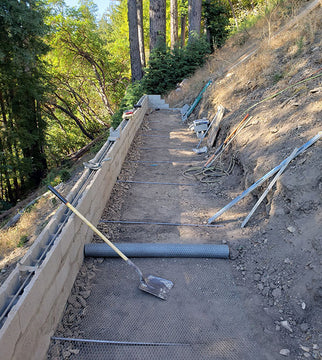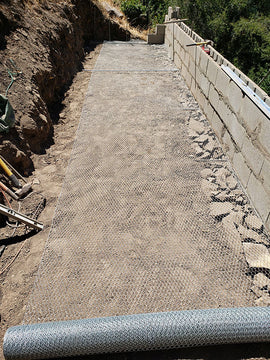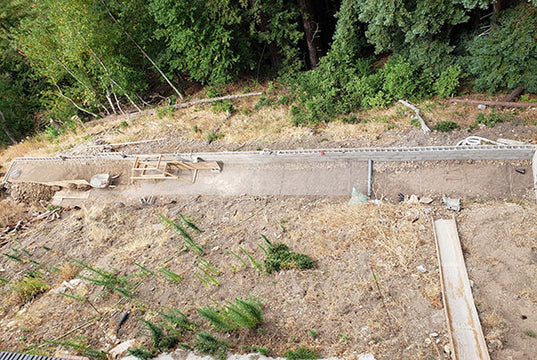 Gopher Wire Roll - Gopher Block - Heavy-Duty - Galvanized Steel Mesh
View Details and Pricing
Tips for Preventing Gopher Intrusion in Your Landscape
Gophers' Important Features
Pocket gophers get their name from their furry pouches on the side of their mouths to store food and collect materials for their nests. Gophers are pretty common throughout North and Central America. They are small furry rodents that burrow through yards and gardens to gain access to the roots of plants.

Gophers have some incredible features in order to survive in their habitats such as digging tunnels using their powerful, large front claws. To move around in the dark, they have small ears and eyes and very sensitive whiskers, Also, to keep dirt out of their mouths when digging, they close their lips behind their incisors (teeth).
About Gophers
There are several species found in California, the Botta and T. Bottae are the most common pocket gophers. Size can depend on the species but in general, they are 6 to 10 inches long including the length of their tail.
Gopher Eating Outside Hole

Gopher Mounds vs Mole Mounds
Gophers are a member of the Thomomy species that are known for building mounds that look crescent-shaped and made from loose dirt. If you look closely, you will see a plugged hole on the side of the mound. If the mound is wide open, chances are the gopher has deserted it and moved on.

In many cases, you could mistake a mole mound for a gopher mound. To tell them apart, mole mounds are circular in shape and the plugs are in the center of the mound and are volcano in shape. Moles, unlike gophers, build their feeding burrows just below the surface forming a raised ridge to mark their way. Also, moles build deeper burrows. On the other hand, one gopher can build several mounds in the same day.

Gophers live underground in their burrows, but once in a while you might see them eating at the edge of an open burrow, pushing dirt out of the burrow, or moving on elsewhere, Gophers create mounds by digging tunnels and pushing loose dirt to the surface. You will know if you have gophers in your yard if you find mounds of fresh soil. With moles, it's a raised ridge.

Non-irrigated mounds are more prominent during the winter and spring when the soil is moist and easier to dig. In irrigated areas that house yards, flower beds, and gardens, digging is continual throughout the year and mounds will pop up constantly.

In regions where snow is common, gophers will build burrows in the snow and reveal cores on the surface when the snow melts.
Gophers' burrows can cover anywhere from 200 to 2,000 square feet, measure between 2½ to 3½ inches in diameter, and are located 6 to 12 inches below the surface. The nest and storage for food can be 6 feet deep depending on the kind of soil. When completed, the burrows are sealed with plugs.

Short, sloping tunnels connect the burrow systems to the surface created by the gophers pushing soil to the surface in order to create the main tunnel.

You might not see fresh mound activities as gophers are busy during all hours of the day and night and will live in the burrows except during breeding or caring for their young. In non-irrigated areas, breeding takes place in late winter or early spring, and only have one liter each year. In irrigated areas, they can have 3 liters each year with an average of 5 to 6 babies. They reach their maturity by age one but only live for three years. Also, if you have vineyards or live by alfalfa fields, you will find many gophers living there as well.
Gopher Looking at Horizon
Pocket gophers are herbivorous meaning they live on plants such as perennials, annuals, and biennials. Gophers also have a keen sense of smell in order to locate food. Normally, they live on roots or the fleshy sections of plants they come in contact with while digging. They can feed on the surface but it's a very limited area that is very close to their tunnel opening. These openings are referred to as feed holes. You will recognize them by a band of circular clippings of vegetation around the hole, and there is no dirt to be found.
Damage Caused By Gophers
Unfortunately, pocket gophers are not only invasive but can wreak havoc on your garden crops, tree and shrub roots, vines, and other plants by dragging them into their tunnel from below ground. Adding to the damage, they will gnaw on flexible plastic water lines and irrigation systems, especially systems for drip irrigation. The tunnels can redirect or carry away irrigation water which will lead to erosion. When you discover mounds in your yard, you will find it very difficult to mow and these mounds can destroy the beautiful look of your grass.
Gopher Holes in Backyard
Gopher Protection
The California Department of Fish and Wildlife & Fish and Game Code has classified pocket gophers as non-game mammals. In other words, they can be trapped and you do not need a license for gopher removal. They can be controlled at any time and in any manner.

In order to control the gopher population and take control of your lawns, gardens, and orchards you can use poisons and baits. Underground fencing might be allowed to protect ornamental shrubs and landscape trees. To protect your existing plants, you can bury gopher wire with mesh openings of 3/4" beneath the soil. The mesh will keep the gophers from invading the landscape. The 3/4" mesh size is important as it allows for plant roots to grow normally and avoid being "strangled".
You can protect small areas like flower beds by underground screening the beds, sides, and bottoms. When creating raised vegetable or flower beds, use soil with gopher wire to keep gophers out. For individual plants, install wire baskets that you can make yourself or purchase them from your local hardware store at the same time as placing the plants in the ground.

Use a 20 gauge ¾-inch non-galvanized steel wire for shrubs and trees that are going to need protection while they are still young.

You can ward off gophers by laying down course gravel (an inch or more in diameter) around your underground flexible sprinkler lines or utility cables.
Penetrating Burrows
You can trap or penetrate burrows but first, you must know where they are located. In order to penetrate a burrow, you have to use a probe. Probes come in different shapes and sizes as long as they are durable and long enough allowing you to identify the gopher's tunnel system while searching through 4 to 12 inches of hard soil. When choosing a probe, make sure the tip is wider than the shaft of the probe to successfully locate the burrow. In some cases, people will use long screwdrivers to find the tunnels.
Locating The Burrows
In order to pinpoint the burrows, you have to go to places where the gophers have been very active. To discover active areas, you need to look for fresh mounds with moist dark soil. If you find mounds above the surface, you will see the plugged openings of the tunnels heading sideways. To find the main burrow, you will have to probe down approximately 4 to 12 inches on the side where the plug is located.

You will probably have to probe quite a few times to find the main burrow but over time your skills will improve. In some cases, the gopher might not be in a particular tunnel so baiting and trapping might not be as successful as it would be with the main burrow.

You might have to go online and view some videos to learn how to locate tunnel systems successfully.
Gopher Trap Near Hole

Gopher Coming out of Hole
Trapping is another effective way to control gophers if you want to go that way. There are several brands of lethal traps on the market. The most common type of traps are the 2-pronged pincer traps including Macabee, Cinch, and Gophinator. The gopher triggers the mechanism by pushing up against the flat, vertical pan or metal wire. Gopherhawk has created a choker trap that will allow you to enter the gopher's burrow but to date, this kind of trap has not proven to be effective.

To set a box or pincer trap, locate the main tunnel using a probe. Use a shovel, garden towel, or hori hori knife, which is a Japanese knife, and then open the tunnel wide enough to place the trap. You should place the traps in as many tunnels as possible because it's difficult to tell what section of the tunnel the gopher might be in.

Some people believe the box trap is easier to use versus the pincer trap, especially for those who are inexperienced at gopher trapping. There's more work involved in setting up box traps because you have to excavate the surface a lot more than pincer traps. Most people who are experienced in trapping believe the pincer trap is easier to use. You will have to weigh the two before deciding which will work best for your lawn and gardens. Others believe the Gophinator trap is more successful than the Macabee trap for catching larger more mature gophers. Some trappers think you should set bait behind the trap to increase the success rate but UC Davis researchers have found there are no benefits. Also, there is no evidence that human scent plays a part in the success of trapping.
Once you have set the trap be sure to wire it to stakes so you can easily get it out and stop scavengers from from walking off with it. After that, cover the openings with canvas, sod, landscaping cloth, plywood, cardboard, or dirt clods to prevent light from getting into the burrow. Cover the edges of the covers with sifted fine soil to prevent light from getting in.

On the other hand, you can leave the trap sets uncovered to encourage gophers to stop by and visit. Gophers look for openings to plug up because they do not like openings in the burrow. All said, there does not seem to be a benefit for covers except to keep humans and other animals from getting in. Keeping them uncovered will let you set traps more easily and allow you to check them more often. However, you should always cover trap sets when trapping in areas frequented by people and pets.

As a general rule, it's recommended you cover sets when using box traps as gophers can plug the tunnels before ever hitting the trigger wires of traps you left uncovered.

There are some trappers that prefer to leave them uncovered when setting them in lateral tunnels to encourage gophers to investigate. Just make sure to check the traps on a regular basis and reset the traps when needed. If 1 or 2 days have gone by and you have not captured a gopher, reset the traps in a different area.
Look Into Natural Treatments
Some people would prefer to leave the situation as is versus using traps. They believe if left alone, the gopher population will diminish but by the time the population has dropped, they will leave behind a lot of damage to gardens, parks, yards, and athletic fields.

That said, there are predators such as cats, dogs, snakes, coyotes, and owls who will eat them. It's very rare that these predators will remove all prey. At some point, they will move on to another area where the prey is bountiful. Keep in mind. Gophers have their own defenses against predators, if a snake gets into their burrows they can quickly push up an earthen plug to stop the snake's advances.

Although predators will not control the entire population, some people have attempted to attract barn owls by installing nest boxes. Even though owls prey on gophers, they naturally hunt over larger areas with a bountiful level of prey. These areas are far away from someone's nest boxes. Therefore owls are not reliable regarding gopher control, especially in small areas like yards. Gardeners cannot sit around waiting for an owl to show up while havoc is taking place all over their yards and gardens. The best remedy is using trapping or baiting.
Gopher Abatement

Modifying Their Habitats
You can try to reduce their supply of food using chemical or mechanical methods to limit gophers' attraction to lawns and gardens. If you can, remove weeds in areas that are near your yard and garden by creating a cushion that will be unsuitable to gophers.
Using Toxic Baits
If you want a successful toxic baiting program, you need to know where to place the bait. Dealing with pocket gophers you have to place the bait in the main underground tunnel. Do not place it in a lateral tunnel. Using a probe, you can find the main tunnel. Enlarge the opening by rotating the probe or using a large rod or stick. Follow the directions on the label and place the bait very carefully in the opening using a spoon or another utensil. Just make sure from that point on, you only use that utensil for this purpose. Be careful not to spill the toxin on the ground. A good choice might be getting a funnel to ensure nothing will spill out.

In some cases, you might find a back-filled and plugged tunnel that a gopher filled with loose dirt or soil that seems like an active tunnel but it's not. Those who are new to using probes might discover by digging down they can verify if the tunnel is really active or just plugged. If it's an active tunnel, apply bait to both sides of the tunnel before sealing it up. If it's plugged leave it be.

Experience speaks volumes. You need to know whether the tunnel is active or not. If you can verify the tunnel is active, follow the instructions below for baiting procedures.

There are several baits available to rid of gophers. One product is strychnine-treated grain which is considered one of the most powerful choices for getting rid of pocket gophers. This bait has 0.5% strychnine and is extremely lethal after just one feeding.
Gopher in Lawn
There are other baits that contain 2.0% zinc phosphide and like strychnine, are lethal with one feeding. Some other baits include anticoagulants (chlorophacinone and diphacinone). If you choose anticoagulant you will have to use a large portion which is larger than the amount used for strychnine and will require many servings.

Even though it's less effective than strychnine, after ingesting, it's less toxic making it a chosen product for areas with children and pets. When choosing either of these baits, make sure you follow the directions on the label and if any of the substance lands on the ground be sure to clean it up. Otherwise, it will be harmful to your pets as well as wildlife. Keep in mind, that applications for gophers can only be used in burrows because above-ground is illegal and could expose pets and wildlife to this lethal poison. Never place poison bait in your garden with vegetables with roots because the poison can come in contact with the vegetables and seriously harm people who consume the crops.

Once you have placed the bait in the main tunnel, close the hole with sod, rocks, or other similar materials blocking off the light. Be careful not to allow dirt to fall on the bait. You should place several baits in the burrow system for better results.
When done, tamp down on the mound or clear it away so you will be able to tell if it has become active again. If there is added activity 2 days after using a strychnine or zinc phosphide bait, you will have to apply another application. If there is activity 7 to 10 days later, you will have to apply more bait or use a trapping device.

If you have a large area that has been taken over by gophers you might have to use a hand-held bait applicator to step up the treatment. Bait applicators are devices with a probe and a bait reservoir. After finding the tunnel, use the probe and then release the trigger to release a measured amount of bait into the tunnel.

For the record, applicators are normally used only with strychnine or zinc phosphide bait because the applicators can only release a small amount of bait at one given time.
Fumigating
Using smoke or gas cartridges is not particularly effective because gophers will seal off their burrow when they detect gas or smoke. You can fumigate using aluminum phosphide but you will need a state license to use it. Professional pest control companies can easily obtain aluminum phosphide so you should consider hiring professionals for the job. There are new regulations on the books restricting the use of aluminum phosphide in residential areas. The restrictions state that applications within a burrow system must be 100 feet from buildings where people and domestic pets reside or have been found in those places. Within residential areas, aluminum phosphide can only be used in parks and/or athletic fields. More than likely, you can not use this product in residential areas under any circumstance.

Pressurized exhaust machines were approved for use in 2012 for controlling gophers in California. These devices release exhaust with carbon monoxide. The exhaust is released into the burrow system killing the gophers. There are several products on the market including the Pressurized Exhaust Rodent Controller (PERC), Burrow Rx, Cheetah rodent control machine, and the CO-Jack.

These machines are somewhat effective with removal rates around 70% for the PERC machines. Unfortunately, these machines are expensive and usually are only used for large infestations of gophers.
Gopher on Mound

Gopher Eating in Yard

Other Ways To Control Gophers
Pocket gophers can withstand irrigation but you can try to flood them out of their burrows and then kill them. Gas explosive devices are also available but are only effective to a point. These devices ignite a combination of oxygen and propane into the burrow system. This force creates a hard blow that is damaging. It will kill the gopher and destroy the burrow system. If you choose this approach, you must show great caution. It can destroy property, injure the user as well as bystanders, start fires in dry climates, and destroy soil and lawns. On top of that, these devices are very loud making them very unpopular in residential areas.

Repellents are successful at protecting gardens from gophers. Certain plants such as gopher purge, Euphorbia lathyrus, castor bean, Ricinus communis, and garlic have been used as repellents but there is no substantial proof they really work.

Other devices are designed to scare off gophers using vibrating stakes, ultrasonic sound waves, and pinwheels powered by wind. Gophers are not easy to scare off because they are familiar with many sounds like lawnmowers, vehicles, and even sprinkler systems. In general, these devices are ineffectual. Placing gum or laxatives in the burrow will not do the trick either.
In Conclusion
Once you have the pocket gopher population under control be sure to check the area on a regular basis. Be sure to remove all existing mounds and get rid of weeds and other debris that could be hiding fresh mounds. Gophers can move in and out of an area very quickly and wreak a lot of damage before you realize it.

If your property borders on vacant lots or wildlands keep an eye out because gophers love these places and could frequent your property right under your nose. Be ready to take appropriate action when gophers start showing up. As just mentioned, not everyone wants to kill these animals and they are not alone. In that case, a installing gopher wire is the most straight forward and humane solution for long term protection against gophers.